Service Dog
A service dog is intended to help people with mobility impairments. He can perform a number of tasks depending on the individual needs of the person for whom he is to be trained.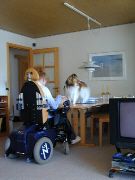 Black Labrador – Nico is a service dog trained by Danish trainer Vibeke Reese.
Its owner would not be able to carry out many daily activities without Nico's help. Nico has never let his lady down.
Nico helps his mistress with putting on and taking off her jacket, shoes and socks.
Mette and her female Shetland Sheepdog Lady make a great team. A permanent sitter was once needed to care for Mette. She is now helped by a specially trained dog. Mette and Lady are together not only during the day. At night, Lady watches to see if Mette is feeling well. At any sign of danger, she immediately runs to notify the girl's parents.
Mette, like every member of the family, has her own duties at home. He must learn to be resourceful. Lady helps her of course, e.g. by opening the girl's dishwasher.
Since Mette and Lady are together, the girl is more confident, independent and smiles more often.
A service dog is a chance for a disabled owner to get out of the house. A dog, however, helps not only to overcome architectural barriers but also those in people's hearts.